Custom Stencils for Logos, Designs, or Text
Reusable custom stencils for spray paint, ink, or paint rollers on equipment, walls or pavement. Stencils can be made from different materials like plastic Mylar, Poly, or Magnet. Mylar stencils are used for all the small details and Poly is used for large stencils, or industrial stencils. We can use just about any design or logo to create a stencil for you. Custom stencils are a great way to quickly mark your products and enhance your image.
---
Select from our popular stencil materials below.
---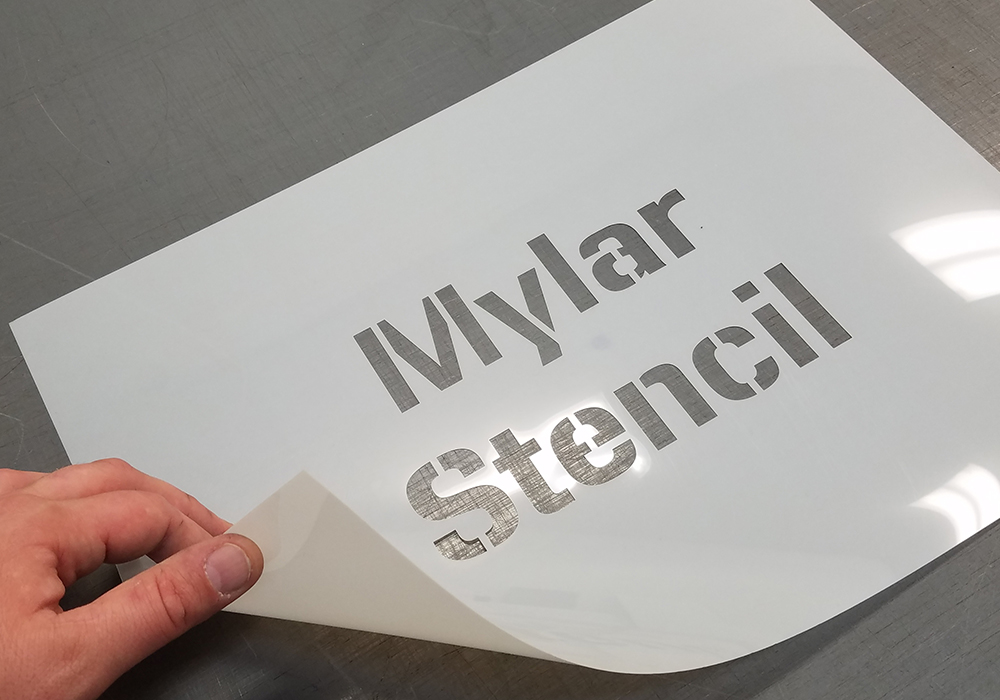 ---
---
What material is best for custom stencils?
Mylar:
Described as a "milky plastic", Mylar stencils are our most popular stencil material. Great choice for economical reusable custom stencils. Stencils can be easily cleaned with solvent and can be used many times. Mylar is .010″ thick. Minimum letter hieght 0.375" tall

Poly:
Looking for material heavy enough to mark on pavement, athletic fields or warehouse floors? Our 1/16" and 1/8″ poly stencils are for large, heavy duty applications. You will appreciate the quality, durability, flexibility and clean cut design. When paint is dry, bend the stencils or hit against hard surface and paint will flake off easily. 1/16" Min character – 1" 1/8" Min character – 1.5"
Magnet:
Custom magnetic stencils
material is .030″ thick and because it's magnetized can easily mark your storage containers, drums, pipes, railcars, dumpsters, simply mount stencil to surface and paint. Our material has a Mylar coated front, great for the reusable surface to hold up to the paints and inks, and a magnetic back great for the hold on to magnetic surfaces when needed. Min character size 1"
---
How thick is our custom stencil material? Use this conversion guide to help
Stencil Material Guide
---
Make A Statement with Stencils:
Custom stencils make for a powerful way to build your brand with marketing, add a decorative touch, or make your mark. Looking to make a sign, put your logo on your equipment or furnishings, or put inspiring words on your wall, custom stencils are an easy and cost effective option.
---
Custom Stencils - Frequently Asked Questions
---
Q. How are the custom stencils made?
A. The stencil is first designed in the computer with your specs, then the file is sent to our industrial laser machines and cut on the material of choice.
Q. What stencil material is best for reusable stencils?
A. Mylar 10mil is the most popular choice for custom stencils, it's a great choice for all the small details when you have intricate designs. Mylar works best for smooth surfaces like walls or floors. Poly stencils are best for larger stencils with large cut-outs. Poly stencils work great for parking lots stencils or heavy duty stencils that will be used many times.
Q. How much does it cost for stencils?
A. Stencils price varies depending on the size and design you want. Select the material of choice and enter in the size and quantity for an instant quote.
Q. How do I make my logo in to a stencil?
A. Select the stencil material you want. Choose your desired height x width and the quanity, select if your stencil is words only or logo stencil, add any special instruction in the box (i.e 2" letter height "KEEP DOOR CLEAR" 3 lines stacked). You can proceed with clicking the continue button, if you're sign-in to your account it will ask you to upload a file for that job, you can simply add your .pdf logo or artwork to the order or continue without and proceed to checkout. Once your order is placed we will begin designing your stencil and a finalized proof is sent, after the proof is approved it goes to production.
Q. How large can I make my stencil?
A. We can make stencils any size the job calls for 4'x12', 8'x8', or 4"x4". The stencil material comes at 48" wide max, anything over this width will be split into managable sections this will make for easy storing.
Q. How small can you cut stencils?
A. We like to cut letter height no smaller than .50" or 1/2" in height on the Mylar stencil material, 1" minumum letter height for the Poly stencils. This will ensure the stencils perform great once the stencil is cut. For anything less than the minimum letter height please contact us for special quote.
Q. How long does it take to make stencils?
A. Once your order is placed we will get started with setting up your proof for the stencil. A proof will be sent to you in a little as one hour to 24 hours for more complex artwork stencils. Once the stencil is approved it goes straight to production, the stencil is boxed up and will ship from our location the same day or following business day from when the proof is approved.
---
Still not sure?
We can help talk you through the stencil options, help set up your account… or chat about dogs. If you like.