Custom Cut & Reusable
Stencils for spray paint, ink, or paint rollers on equipment , walls or pavement. It can be made from different materials like plastic mylar, Poly, or Magnet. Mylar stencils are used for all the small details and Poly is used for larger, or industrial stencils. We can make just about any design or logo custom stencil. Custom cut stencils are a great way to quickly mark your products and enhance your image. Select from our popular materials below.
---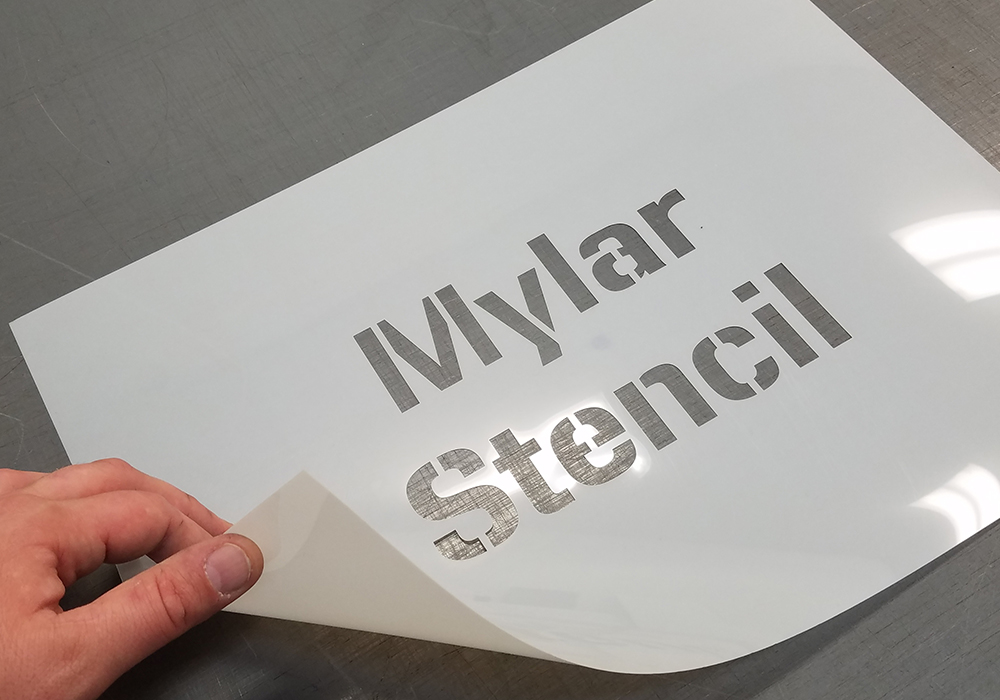 What material is best for a custom reusable stencil?
Mylar:
Described as a "milky plastic", Mylar stencils are our most popular. This economical and reusable stencil is extremely durable, can be easily cleaned with solvent and can be used many times and saved. Mylar is .010″ thick.
Poly:
Looking for material heavy enough to mark on pavement, athletic fields or warehouse floors? Our 1/16" and 1/8″ poly stencils are for large, heavy duty applications. You will appreciate the quality, durability, flexibility and clean cut design. When paint is dry, bend the stencil or hit against hard surface and paint will flake off easily. 1/16" Min character – 1" 1/8" Min character – 1.5"
Magnet:
Custom
magnetic stencils
material is .030″ thick and because it's magnetized can easily mark your storage containers, drums, pipes, railcars, dumpsters and much more. Our material has a Mylar coated front, great for the reusable surface to hold up to the paints and inks, and a magnetic back great for the hold on to magnetic surfaces when needed. Min character size 1"
---
How thick is our custom stencil material? Use this conversion guide to help
Stencil Material Guide
---
Make A Statement with Custom Stencils:
Custom Stencils are an effective way to build your brand with marketing, add a decorative touch, or make a statement. Whether you want to make a sign, put your logo on your equipment or furnishings, or put inspiring words on your wall, custom stencils are an easy and cost effective option.
Your Online Custom Stencil Experts:
We make the process easy and insure that you get a stencil that will make your project turn our perfectly. We have expert designers; state of the art lasers that can cut materials as large as 4' x 12'+; and we carry the best of stencil materials, we insure that you get exactly what is required for your project.
Contact us for more information.
---